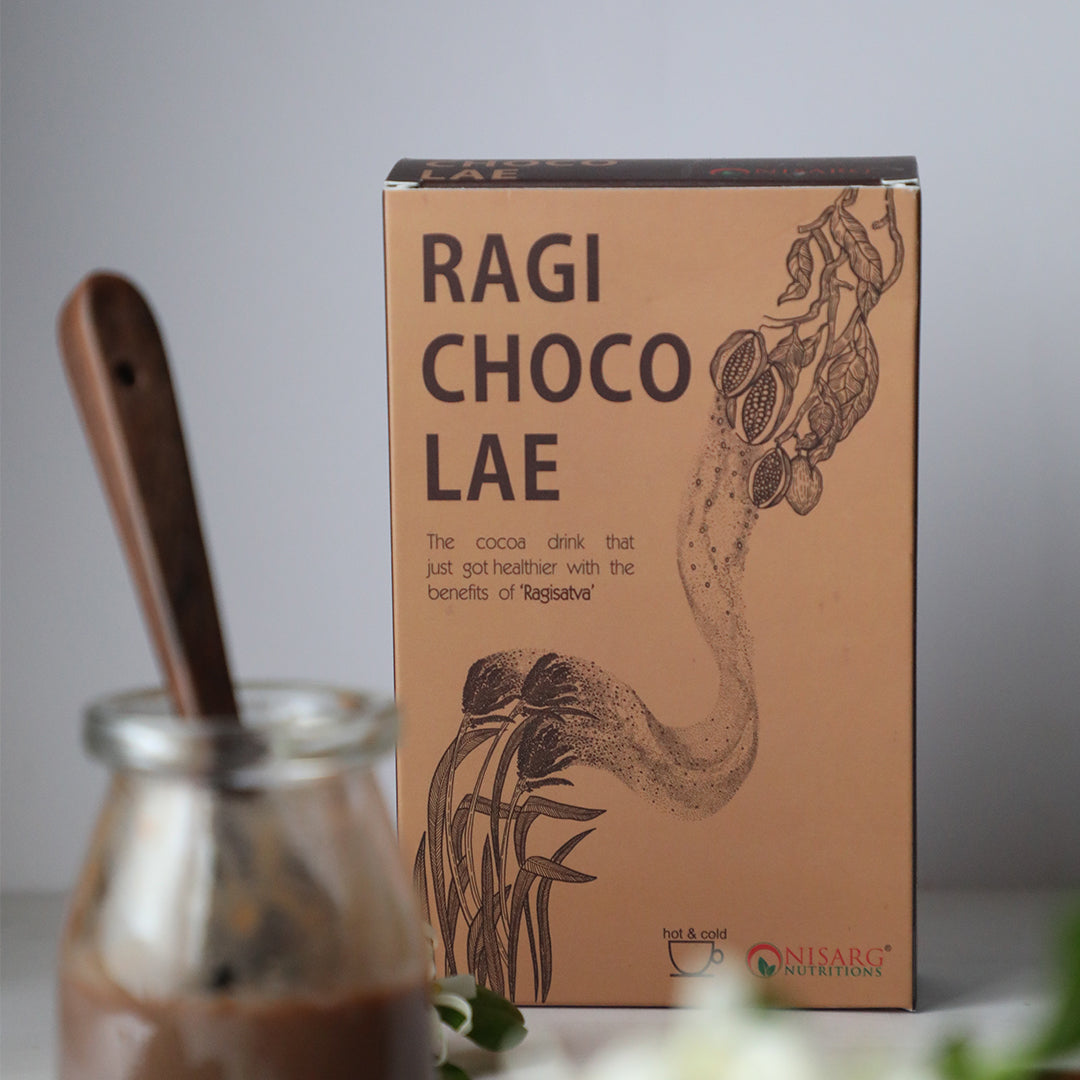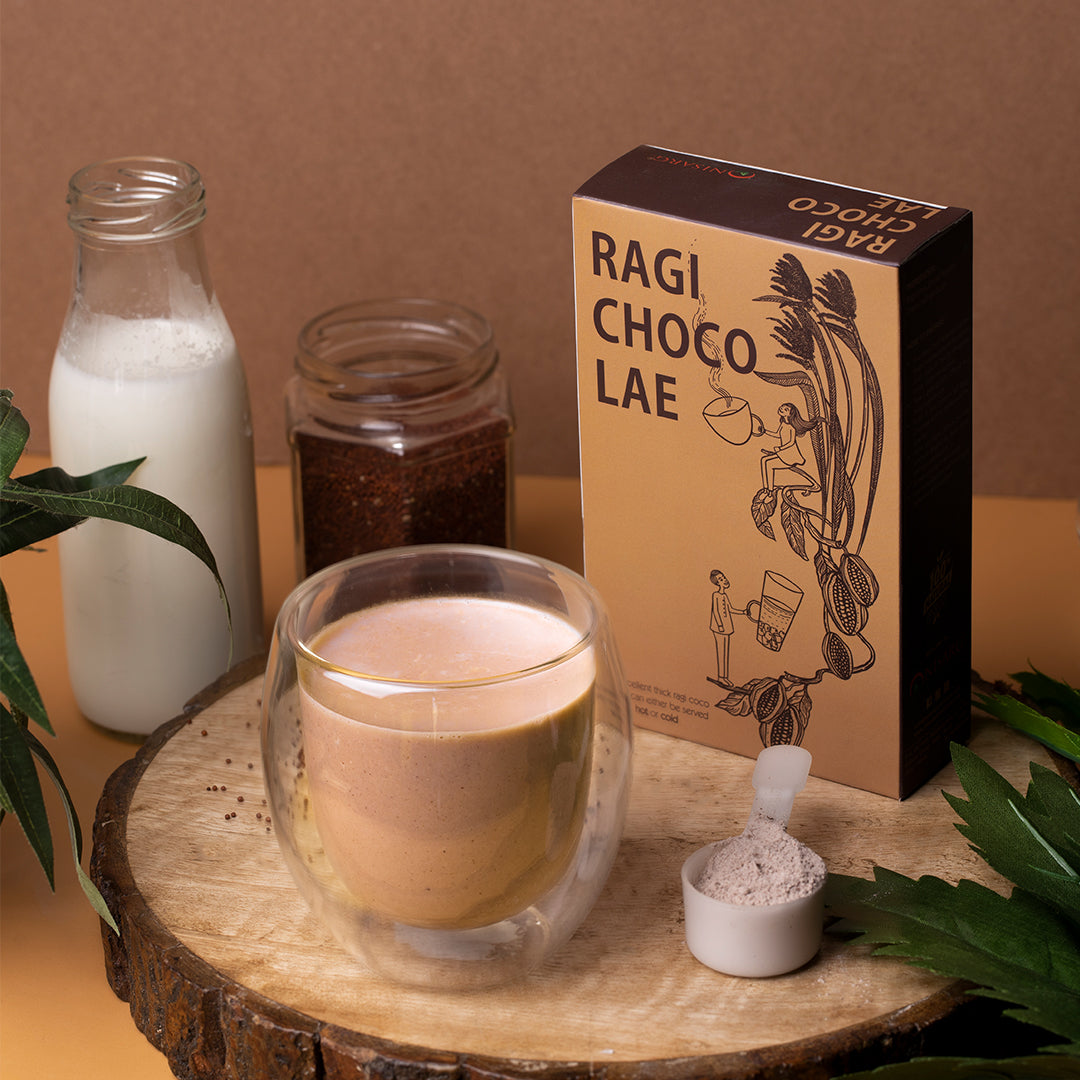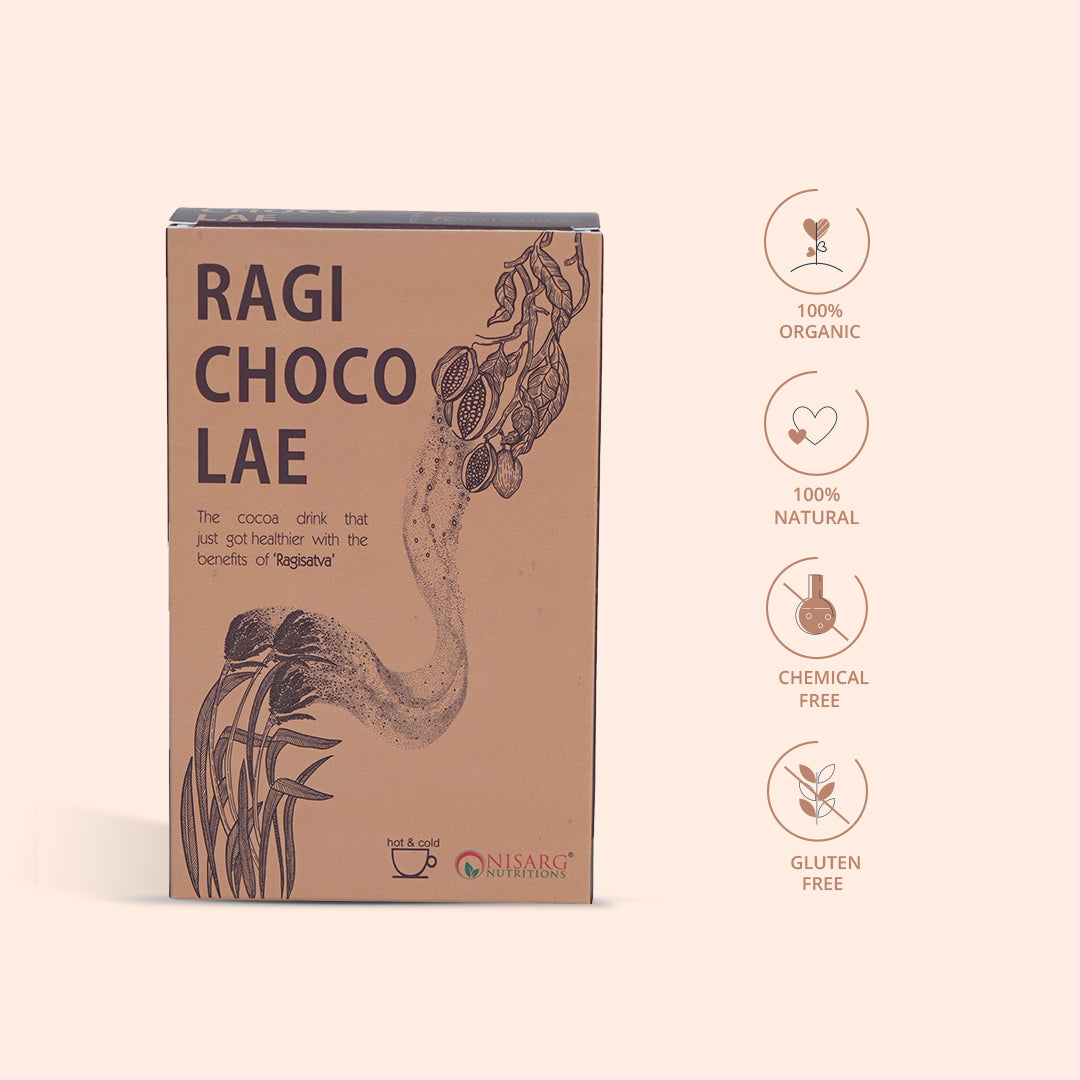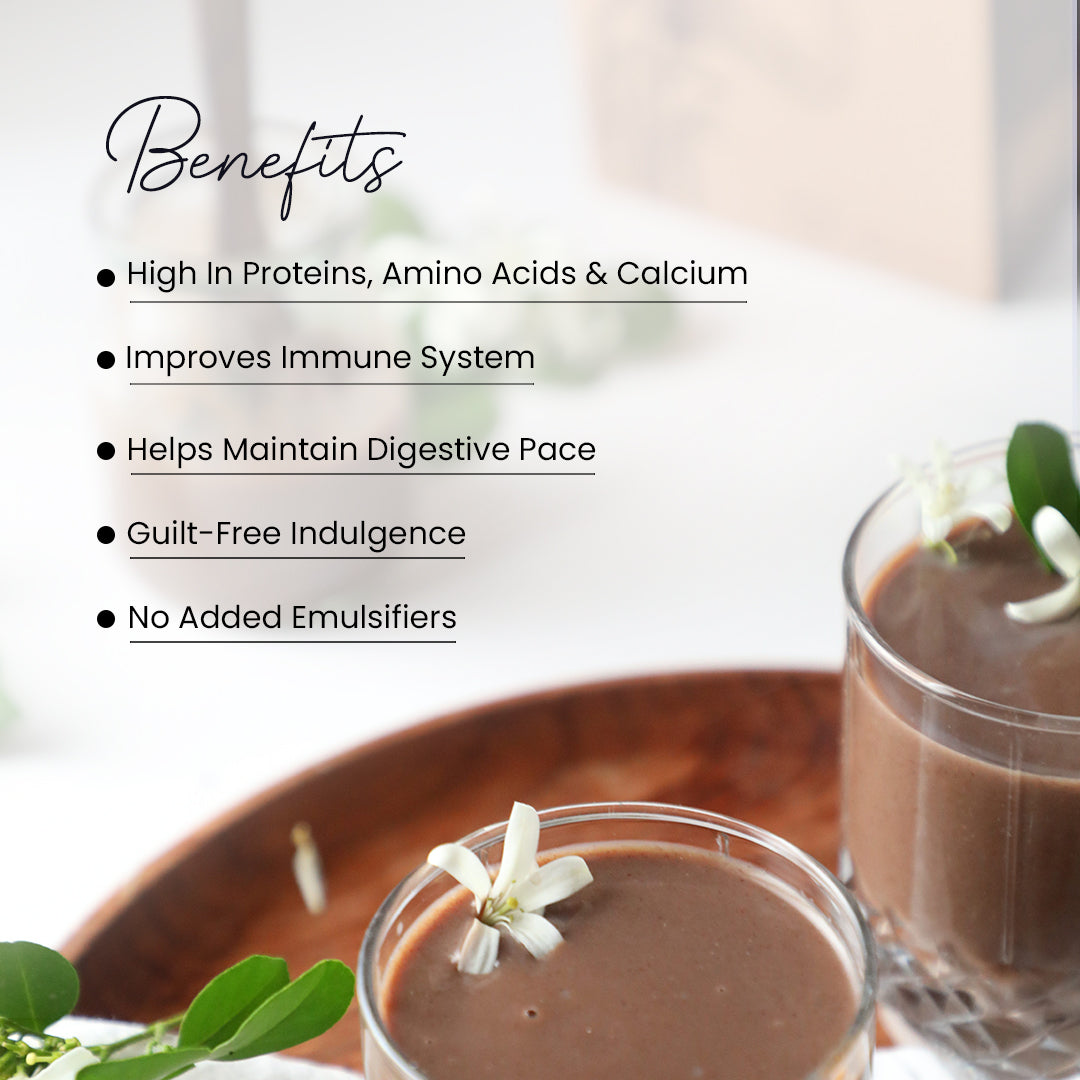 Delicious Cocoa Combined with the Goodness of Ragi Sattva
Description
The decadent chocolate drink just got healthier with the benefits of Ragi Sattva. Rich in calcium and essential amino acids, Ragi Chocolae adds taste and nutrition to your daily cup of milk. Serve it Hot or Cold. A gluten-free drink with a combination of nutrients of Ragi and Cocoa powder which is rich in calcium, antioxidants, and essential amino acids. Ragi is one of the traditional food crops of India. It is known for its abundant benefits in ancient Ayurveda. It is gluten-free and rich in fiber making it useful for weight loss patients and diabetics.
What's Inside
Ragi sattva, cocoa and organic sugar
Benefits
High proteins, amino acids, iron and calcium.
Antioxidants present help in the optimal functioning of the nervous system.
Vital amino acids present make the skin tissues less prone to wrinkling.
Strengthen immune system.
The low glycemic index lessens food cravings and maintains the digestive pace.
How to prepare?
•You will need 2-3 tablespoons of Ragi Chocolae powder to make your healthy chocolatey drink.

•Take a glass of milk (200ml) in a heavy bottom pan.

•Add chocolae powder and stir it well.

•Heat on slow flame till the mixture begins to boil and stir it continuously.

•Your thick and healthy is ready to drink.

•Use the contents of the packet completely or store it in an airtight container.
Consult Doctor Medha Patel for Ayurvedic treatments
---
Free Shipping on order above ₹399
Free Gift on prepaid orders over ₹500
Get upto 30% off sitewide
---
---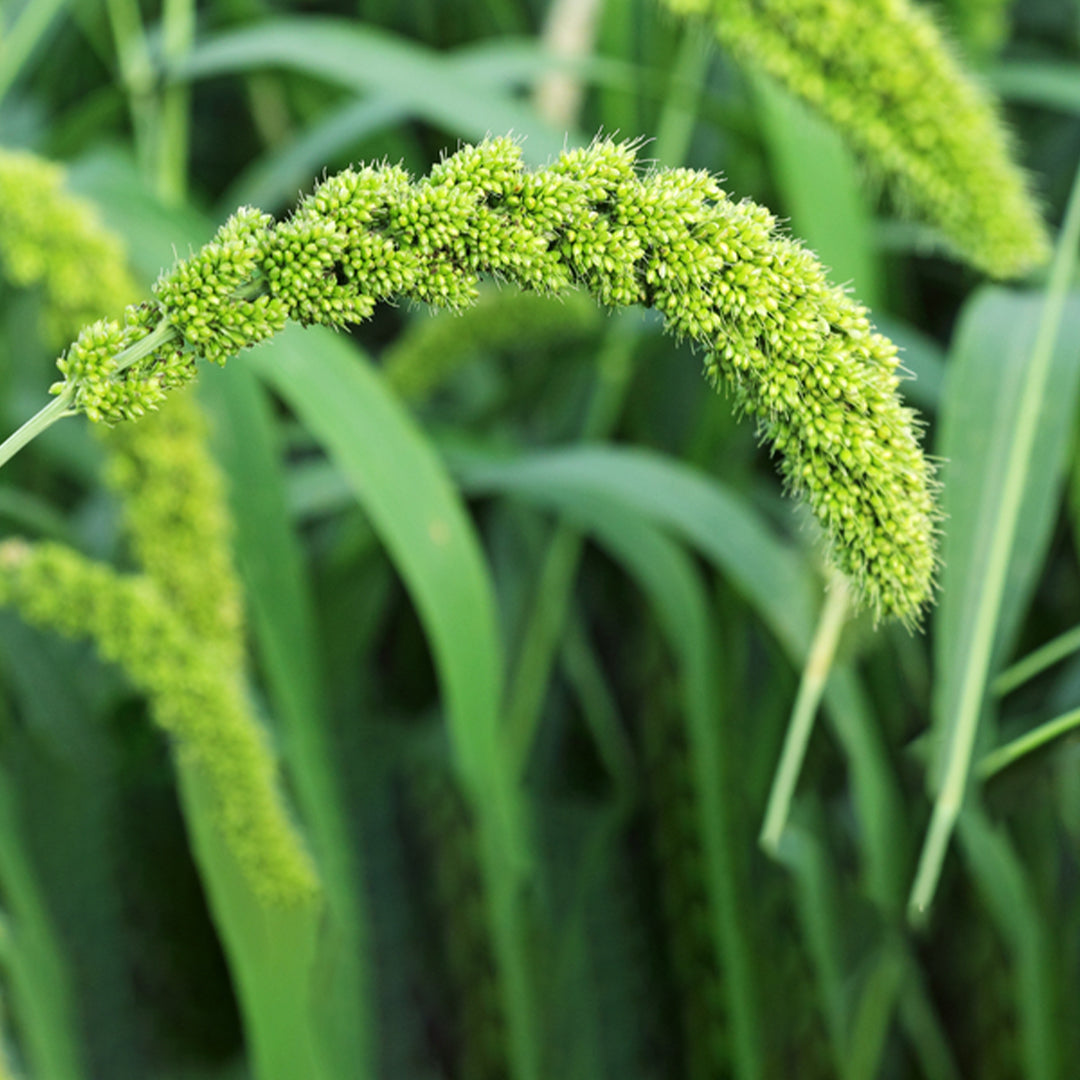 Nisarg Nutritions
Ragi Chocolae
We believe in combining health with taste and our products are also mindfully created in accordance with our beliefs. Ragi Chocolae is an amalgamation of Ragi's nutritional benefits combined with the delicious taste of Chocolate. As a responsible brand and being true to our brand language, we source Ragi from Dang where it is the most nutritious. This batch of farmers especially grows Ragi for us, and we take pride in collaborating with them.